Passo Costalunga – Nova Levante – Paolina
Going up from Vigo di Fassa towards the Costalunga Pass (direction of Bolzano) will take you to the Carezza ski area in 10 minutes. The lifts are on the pass itself. Other lifts are located along the road to Nova Levante and the Nigra Pass. Worthy of note is the modern Paolina lift, which crosses the golf course and from which it is possible to see totally unique views, with a splendid panorama that includes the Catinaccio mountain chain to the north and the Latemar group of mountains to the east. The area offers skiing schools, Kinderland children's areas, ski buses, sporting goods shops, winter sports equipment hire, Après ski (typical mountain refuges and Umbrella bar) – there is also a single "Val di Fassa/Carezza" ski pass, linked to "Dolomiti Superski".
To report Hotel and Apartments in Vigo di Fassa, the description of the town of Vigo di Fassa, Webcams of Vigo di Fassa and Weather Vigo di Fassa.
Ski Pass
Prices Ski Area Carezza
Price list Winter season 2013-2014
Daily tickets high season Adults
€ 38,00
Daily tickets season Adults
€ 36,00
Daily tickets Pre-season Adults
€ 35,00
Daily tickets Juniores (until 16 years)
€ 26,00
Daily tickets Seniores
€ 32,00
Daily tickets Baby (until 8 years)
€ 15,00
3 hours Adults
€ 24,00
3 hours Juniores
€ 19,00
3 hours Seniores
€ 24,00
3 hours babys
€ 11,00
Afternoon ticket Adulti
€ 26,00
Afternoon ticket Seniores
€ 21,00
Afternoon ticket Juniores
€ 26,00
Afternoon ticket Baby
€ 13,00
Daily: from 9 a.m. to 5 p.m. - Afternoon: from 12.30 p.m. to 5 p.m.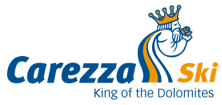 Ski Area Carezza King of the Dolomites

39056 Carezza (BZ)
Tel. Info: +39 0471 619520
Fax +39 0471 - 61 33 60
info@carezza.it
www.carezza.it
Ski Info
Slopes and Ski lifts
16 Ski lifts starting from Carezza and Nova Levante - 40 Km of ski runs provided with artificial snow equipment - 32Km of ski runs for cross country skiing – 2 runs for sledges –1 ice rink – 1 curling track on ice – Ski School – Kindergarten on the snow – Skibusses – Shops for sport equipment – hiking itineraries – Après Ski (typical alpine refuges and 'Umbrella Cafés') – Unique Skipass "Val di Fassa/Carezza" connected with the Dolomiti Superski.
Name of the ski run
Degree of difficulty
Height of departure
Highest share
Lenght
Le Pope
mt. 1.839
mt. 1.757
mt. 645
Hubertus
mt. 1.637
mt. 1.763
mt. 1.333
Pra di Tori
mt. 2.049
mt. 2.049
mt. 753
Latermarwiesen
mt. 2.049
mt. 2.049
mt. 1.450
Fallmur
mt. 1.841
mt. 1.841
mt. 1.558
Paolina-Christmonannos
mt. 1.771
mt. 1.771
mt. 587
Christmonannos (even at night)
mt. 1.841
mt. 1.841
mt. 596
Rosengarten-Paolina
mt. 1.817
mt. 1.817
mt. 276
Masarè
mt. 1.935
mt. 1.935
mt. 504
Rosengarten
mt. 1.935
mt. 1.936
mt. 838
Paolina
 
mt. 2.116
mt. 2.116
mt. 420 ()
mt. 1.245 ()
Franzin
mt. 1.736
mt. 1.736
mt. 1.330
Franzin-variante
mt. 1.736
mt. 1.736
mt. 1.259
Golf I
mt. 1.723
mt. 1.723
mt. 752
Golf II
mt. 1.695
mt. 1.695
mt. 565
Franzin-Moseralm
mt. 1.604
mt. 1.604
mt. 334
Moseralm I Baby
mt. 1.604
mt. 1.604
mt. 361
Pista Moser
mt. 1.747
mt. 1.748
mt. 725
Panorampiste
mt. 1.747
mt. 1.749
mt. 866
Panorama-Tschein
mt. 1.684
mt. 1.684
mt. 157
Tschein - Moseralm II
mt. 1.668
mt. 1.668
mt. 529
Tschein
mt. 1.667
mt. 1.942
mt. 1.673
Monte Coronelle - Tschein
mt. 2.022
mt. 2.022
mt. 518
Re Laurino
 
mt. 2.308
mt. 2.308
mt. 572 ()
mt 1.391 ()
Re Laurino - Laurin II
mt. 2.174
mt. 2.174
mt. 287
Laurin II
 
mt. 2.293
mt. 2.293
mt. 757 () -
mt 1.087 ()
Laurin II - Re Laurino
mt. 1.930
mt. 1.930
mt. 996
Laurin III
mt. 1.988
mt. 1.988
mt. 890
Variante Frommer
mt. 1.987
mt. 1.987
mt. 829
Laurin I
mt. 1.727
mt. 1.742
mt. 1.654
Laurin I
mt. 1.744
mt. 1.745
mt. 2.699
Laurin I - Nova Levante
mt. 1.333
mt. 1.333
mt. 1.440
Ski Summer
In summer between Latemar and Carezza
The excursion area of Rosengarten, Carezza and Latemar is one of the most spectacular in the whole of the Dolomites. Carezza enjoys direct links to other famous excursion areas such as Catinaccio Rosengarten with numerous routes connecting it (for example, from the Santner fixed rope route or, more simply, from the Paolina refuge towards the Roda di Vael refuge) and Latemar, which in turn is connected to Obereggen or in the direction of the Fiemme Valley. The lake at Carezza, located along the road from Nova Levante towards the Costalunga Pass, is a pearl set in the forest of Latemar and a true gem out of the entire natural heritage offered by the Dolomites. There are numerous mountain refuges, alpine pastures and possibilities for excursions, even on horseback. Countless other routes start out from excursion area of Rosengarten, Carezza and Latemar and those looking for more information about all possible excursions can consult the summer pages about excursions in the Fassa Valley on our web site
www.dolomitinetwork.com